Hello world! Welcome to my knitting blog :)
My name is Allison, and I'm currently a stay/work at home mom to a 10 month old kiddo. I live in Canada, and have an obsession with pretty wraps, yarn, and diapers. We often stay up late, since my boyfriend works until after midnight most nights - not the greatest schedule but we're workin' on it.
Here is a picture of my wrapee: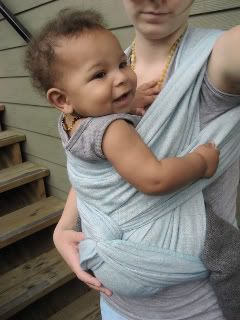 For my first post I am gonna talk about my current project - a pair of linen stitch shorties. Oh, they are taking forever and a day! This stitch is SO time consuming, but the result is amazing. I can't wait to do a pair for my son! Not sure when I will get up the courage again though. ;)
And a progress picture, of course:
I am working on the gusset now, so it will go quick once I am onto the legs. Can't wait to get to my next project!
Well, that's it for now, folks! See ya next time!